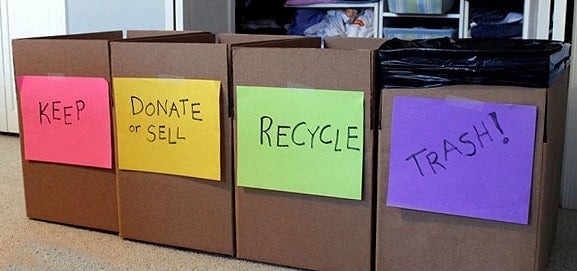 Positive first impression of a prospective home buyer means so much to the successful sale of your home that making a small effort to ensure a good impression can pay off with big returns. This checklist covers many of the little things that set a good example, from the outside…in. 

EXTERIOR
♦ Keep lawns and hedges neatly trimmed, weed flowerbeds
♦ Clean out your garage or carport to show off its full size    
ϖ Arrange garbage bins and recycling neatly
♦ Clean the outside windows and repair any broken panes    
ϖ Cleaning windows with newspaper and on a cloudy day will help eliminate streaks
♦ Oil all the gate hinges and latches- squeaky hinges make fences seem old
♦ Power wash any decks and walkways to remove any green moss or debris
♦ Check that all outside lights are working; house number is clean and easy to read
♦ Touch up exterior paint as required, especially street side
♦ Keep walkways and exterior stairs clean of leaves, snow, etc.    
ϖ Re-painting a set of stairs can make a big difference- the idea is to make the house look newer
♦ Clean roof gutters to avoid "waterfalls" on rainy days
♦ Don't let anything obstruct the street view of your "For Sale" sign 

INTERIOR
♦ Wash down or paint the entry walls      
ϖ Avoid spot cleaning, it can make the rest of the wall look dingy
♦ Repair drawers and cupboard doors that squeak, stick or don't close
♦ Free up hard-to-open windows and doors – especially closet doors
♦ Repair leaky faucets or toilets that run continuously
♦ Replace loose tiles, re-grout if needed and scrub away any mildew
♦ You are going to move anyway, so start now to remove all clutter from every room and get rid or store anything you can live without; pay particular attention to the basement
♦ Clear off countertops! and give the kitchen and bathroom a good top-to-bottom scrub, to make the walls, cabinets, appliances, counters and sinks shine     
ϖ To eliminate odors, clean the inside of the fridge with a baking soda and water mixture, boil lemon juice and water in the microwave, and put lemon rinds down the disposal
♦ Make the bedroom look bigger by clearing off tops of dressers and making your bed- this is the time to use those decorative pillows
♦ Make sure the closets are clear of everything except clothes that are neatly hung or folded to best show the size of the closets     
ϖ Showing Tip: box up and store items that are out of season- the idea is to make the closet look as big as possible
♦ Lighting is important! Replace any burnt out light bulbs and use appropriate bulb wattage to lighten dark areas 

SHOWINGS
♦ Keep all curtains and blinds open to let the maximum natural light in; add to this by turning on every light and lamp.    
ϖ Spring is the time to replace heavy drapes with Sheets to make your house look airy and fresh
♦ Avoid cooking any meal that might cause a lingering odor; let lots of fresh air in
♦ Take the dog for a walk and place the cat in their kennel during the showings, try to eliminate any pet odors.